Posts for: November, 2019
By L. Craig Alford, D.M.D
November 20, 2019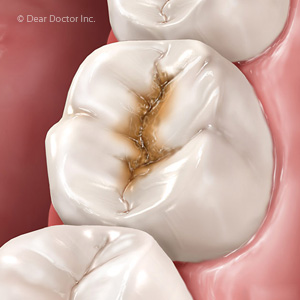 Although preventable, the occurrences of tooth decay are all too common. Yet decay doesn't appear out of the blue: certain mouth conditions set the disease in motion.
Here are a few signs of such conditions to watch for — they could be telling you you're at higher risk for tooth decay.
Visible plaque. Plaque is a thin film of bacteria and food accumulating on tooth surfaces and a prime haven for causing periodontal disease. If you actually see it — a crusty, yellowish film — that means there's a large, unhealthy amount of it. It's essential to remove it daily through diligent brushing and flossing and more thorough office cleanings at least twice a year.
Poor saliva flow. One of this bodily fluid's functions is to neutralize mouth acid, usually thirty minutes to an hour after we eat. If saliva flow is inadequate, though, acid levels may remain high and endanger the enamel. "Dry mouth" can occur from a number of causes, including some medications and chemotherapy treatments. It's important to alleviate the cause if possible by changing medications or stimulating saliva flow through other means.
Tooth shape and appliances. Largely determined by heredity, your teeth contain unique, tiny grooves known as pits and fissures that could harbor plaque. Certain appliances like retainers, braces or night guards can inhibit saliva flow and cause your teeth to retain more plaque. It's important then to adjust your hygiene efforts to offset these anatomical or treatment factors.
Acid-producing conditions. Diseases like gastro-esophageal reflux disease (GERD) or eating disorders can introduce stomach acid into the mouth that is highly erosive to tooth enamel. It's imperative for you or a family member to control these conditions through medication, dietary changes, or — in the case of eating disorders — behavioral therapy.
Eating habits. Sugar and other carbohydrates are a ready food source for bacteria. Likewise, acidic foods and beverages (like coffee, tea, and sports or energy drinks) can cause high acid levels for too long. Cut back on eating and drinking these foods and beverages, especially as snacks, to reduce acid levels that could lead to decay.
If you would like more information on strategies to prevent tooth decay, please contact us or schedule an appointment for a consultation. You can also learn more about this topic by reading the Dear Doctor magazine article "Tooth Decay: How to Assess Your Risk."
By L. Craig Alford, D.M.D
November 10, 2019
Even though an implant is now as close to life-like as modern dentistry can produce, it won't surpass the function of your own natural tooth. That's not to say implants are an inferior choice—in fact, it's often the best one if a tooth is beyond reasonable repair. But first, let's consider saving your existing tooth.
We first need to know why your tooth is diseased—more than likely either from tooth decay or periodontal (gum) disease. Although different, these infections both begin with bacteria and can eventually lead to tooth loss.
While your mouth is teeming with millions of harmless bacteria, a few strains that live in dental plaque (a thin biofilm on your teeth) can cause disease. As they proliferate—feeding mostly on leftover sugar—they produce acid, which can erode the protective enamel on teeth. This can create cavities, which must be cleared of decayed material and filled.
Sometimes, though, the decay spreads deep within the pulp and through the root canals putting the tooth in danger. We may be able to save it, though, with a root canal treatment. In this common procedure we access the pulp chamber and clean out all the diseased or dead tissue. We then fill the empty chamber and root canals with a gutta percha filling and then seal the tooth. We later cap the tooth with a crown to further protect it.
Dental plaque can also give rise to a gum infection that triggers chronic inflammation. The inflammation can cause the gums to weaken and detach from the teeth to form large, infection-filled voids called periodontal pockets. This could lead to bone deterioration, further loosening the tooth's hold.
But we can effectively treat gum disease by removing the plaque, which is fueling the infection. We normally do this with special hand instruments, but may also need to use surgical measures for more advanced cases. After plaque removal the inflammation subsides, giving the tissues a chance to heal and strengthen. We may also need to provide further assistance to these tissues to regenerate through gum or bone grafting.
These efforts can be quite involved, but if successful they could give your tooth another lease on life. And that could be a much better outcome for your dental health.
If you would like more information on the best treatment choices for your dental health, please contact us or schedule an appointment for a consultation. You can also learn more about this topic by reading the Dear Doctor magazine article "Save a Tooth or Get an Implant?"